Client Loyalty Post #15: Will you keep your client once the senior partner retires?
This is the fifteenth in our weekly series of posts that provide excerpts and tips from our book Building Enduring Client Loyalty: A Guide for Lawyers and Their Firms, just published in February. Click here to save 15%. Enter code 'AUTHBEC' at the checkout.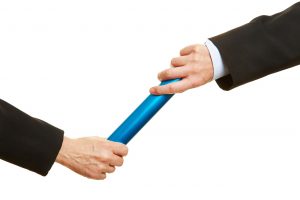 Transitioning or turning over clients is one of the most challenging hurdles in retirement planning, both for senior partners and their firms. Clients know and often worry that senior partners may be nearing retirement but absent any proactive outreach by firms or senior partners about future transitions, clients may make assumptions and start transitioning work to other firms.
Firms benefit from well-thought out and structured approaches to succession planning so they are prepared when lawyers begin to scale back their practices. The goal is to ensure that both clients and the firm are well served during and at the conclusion of the transition period.  There are a number of steps that firms and senior lawyers can and should take to ensure smooth client transitions that hopefully result in clients that are retained long after the original client relationship partners retire.
Assess current senior partners and their corresponding clients and revenue.  Do a five year trend analysis of the firm's top 80% of client revenue and determine which of those clients are tied to partners aged 60 or older. Do a similar analysis of in-house decision makers nearing retirement.
Devise specific steps for transitioning each senior partner client. Develop a plan for each client well in advance of the time a senior partner will actually leave the firm, looking as many as three to five years in advance. Be thoughtful and strategic when formulating the new team, choosing personalities, experience, skills  and diversity that match well with particular clients and their needs.
Client successor(s).  In some instances, two partners will have to serve as successors – one who is more of the trusted adviser and the other who might be a top subject matter expert in the client's industry.
Engage with client about the succession plan. Once the successor(s) has been identified and the internal team has met to discuss the client, the relationship partner should meet with the client to discuss his/her plans and to discuss the proposed successor.
Gauge and enhance successor's progress.  The senior partner and the successor should be implementing a previously devised plan for gradual transition of the relationship. The managing partner should also meet with the client several times during the two to three-year transition period to gauge how well the transition is going so that any issues or concerns can be addressed.
Transitioning relationships and skill sets takes time, and for many senior lawyers and their clients, it represents a time of mixed emotions. Planning ahead carefully and thoughtfully is essential if a firm wants to hold onto its clients beyond a rainmaker's retirement.  Please refer to Part 4, Chapter VI in our book for a much fuller discussion of the succession transition process.
RainMaking Oasis provides consulting and coaching services to law firms and lawyers in the areas of client loyalty and development, business development and growth strategy, collaboration and innovation and succession planning. Please contact Susan Duncan at [email protected].
---