Client Loyalty Post #12: How can you hold onto meaningful relationships virtually?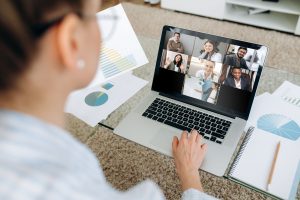 This is the twelfth in our weekly series of posts that provide excerpts and tips from our book Building Enduring Client Loyalty: A Guide for Lawyers and Their Firms, just published in February.  Click here to save 15%. Enter code 'AUTHBEC' at the checkout.
The coronavirus pandemic of 2020 has had a major impact on all aspects of life and the economy. The most radical shift was the mandate to socially distance and work remotely.  This profound change seriously impacted lawyers' methods of client interaction, entertainment and relationship-building.  Not being able to meet with clients on case specific matters, provide on-site CLEs, see each other at conferences and enjoy social outings together eliminated the in-person opportunities to develop relationships organically and has made it more difficult to find commonalities with clients on a personal and professional level.
Clients really need you to be interested in and care about them, especially in times of stress and disruption. Videoconferencing has become a reasonable substitute for in-person meetings but unfortunately, it is less effective than in-person communication. Don't forget that one of the most effective ways of connecting with clients has always been by phone. Phone calls are a better alternative than email for checking in, deepening rapport and often more quickly conveying questions or concerns.
Nothing can replace the effectiveness and desirability of building relationships face-to-face.  Despite the agility and resilience lawyers and their clients have demonstrated in response to a crisis like coronavirus where shelter-in-place became the mandate, it will always be more effective to develop genuine rapport and trust when people can spend some time together, like enjoying a meal, that allows for casual conversation, personal story sharing and the development on commonalities and connection. Fortunately, there are other ways to nurture and deepen relationships even when one cannot do so in-person.
In our book, we include 14 steps to build rapport and closer relationships remotely. Five of these include:
Become comfortable with and proficient in videoconferencing: dress professionally (sweatshirts and t-shirts are not okay even if clients is wearing them), set up a room that resembles a tidy office space, get the right backlighting, invest in a good headset, smile and look into the camera, don't appear distracted.
Make sure every video meeting is interactive – consider using the whiteboarding feature to allow collaborative brainstorming.
If you have not spoken with a client in while and have not been able to see him or her in person, pick up the phone and if the client is not available, leave a voice message. Clients will appreciate hearing your voice.
Get and stay more active on social media, sharing insights, commenting on articles or others' posts, being an active participant in LinkedIn Groups.
Stay in touch by phone, text or email more deliberately and frequently on both matter/deal related topics as well as those of general interest. Add ticklers to your calendar if you are not already speaking with your client several times a week.
Even when in-person meetings resume, but certainly when you cannot meet in person, remember to use the telephone and videoconferencing. Clients can at least hear your voice and see you on video. It feels more personal, is more direct and questions or concerns can more easily be addressed in real time. And make an extra effort to ask clients about their families, how they are doing and reach out on special occasions like work anniversaries and birthdays.
RainMaking Oasis provides consulting and coaching services to law firms and lawyers in the areas of client loyalty and development, business development and growth strategy, collaboration and innovation and succession planning. Please contact Susan Duncan at [email protected].
---