Client Loyalty Post #9: Are you afraid to receive honest feedback on how you are doing?
This is the ninth in our weekly series of posts that provide excerpts and tips from our book Building Enduring Client Loyalty: A Guide for Lawyers and Their Firms, just published in February.  Click here to save 10%. Enter code 'BEC10' at the checkout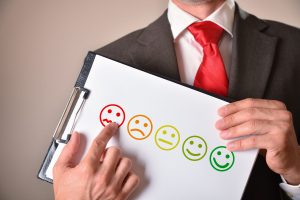 You can only strengthen client loyalty if you continuously engage in meaningful dialogue with clients and receive specific insights into where and how you can improve and how you can better meet their needs. In today's hyper-competitive and fast-changing marketplace, it is critical to base strategic decisions and service delivery execution on the voice of the client. Getting feedback and insights from clients allows firms to improve client satisfaction, enhance customer experience, appropriately respond to client needs – both challenges and opportunities, and address any concerns or issues clients have about efficiency, effectiveness, communications, budgeting, work quality and service delivery.
Establishing a robust client feedback program reflects a deeper cultural value: that your firm wants to hear from clients, engage in dialogue and work together on continuous improvement. If your firm is truly committed to this value, it will have implications for everything from the lawyers you hire, to how you train and evaluate and reward partners, associates and staff, to the investments you make in technology, knowledge management and other client-centric resources, to the approaches you take to create customized client service plans and protocols. In essence, this is a mind-set, not a one-shot approach to marketing.
An important cautionary note: client feedback programs should not be confused with cross-selling and sales efforts or other forms of market research. Too many firms go into client feedback meetings asking for more work in other areas before they have established the level of satisfaction on existing work and service delivery. Only truly loyal clients will refer you to others which is one of the critical questions to be asked at the end of an interview.
Types of Feedback and Methods of Seeking Client Input
Ultimately to be effective, client feedback must become part of every lawyer's and staff person's daily routine, not an annual or one-time event. This means everyone should keep ears open for any expression of concern or frustration on the part of a client and share that with others on the team.
Some level of ongoing dialogue and feedback should be instituted for all clients of the firm. The more time-consuming feedback interviews (for the firm and the client) should be reserved for priority clients. These can be determined by their revenue, longevity with the firm, strategic importance or some other criteria that has been agreed upon and articulated.
More formal methods of collecting client feedback and insights for planning include:
After Action Reviews/End of Matter Surveys
Annual Client Feedback Interviews
Annual Client Audit
Digital, Online Surveys
Net Promoter Score®
Firms that have put into place frequent and formal feedback programs realize substantial benefits. They have used the information to improve and expand the specific client relationship but also have gleaned themes and lessons and suggestions that can be applied to other clients. Aggregated client feedback and trends can be used to guide strategic plans, to make wise decisions about investments like technology, project management and even lateral hires, and to help train and evaluate the effectiveness of lawyers and staff in core competencies.
RainMaking Oasis provides consulting and coaching services to law firms and lawyers in the areas of client loyalty and development, business development and growth strategy, collaboration and innovation and succession planning. Please contact Susan Duncan at [email protected].
---