Book on Client Loyalty Released and Endorsed!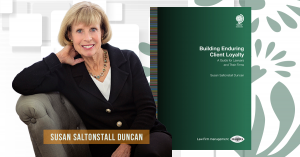 I am thrilled that this book is now available for purchase through Globe Law and Business and Amazon.  Please feel free to contact me directly to inquire about individual or larger quantity discounts.  I hope it will be a valuable resource for all those who serve clients and continue to look for ways to improve and deepen their client relationships and also consider new ways to approach better service delivery, the customer experience, added value, collaboration, innovation and diversity in client engagements.
My deepest gratitude to all those I interviewed and who provided insights to me for the book: Lucy Endel Bassli, Toby Brown, Amanda Bruno, Jeff Carr, Mark Chandler, Kristen Cook, Vince Cordo, Tom Flynn, Dr. Heidi Gardner, Maureen Harms, Melissa Lauderdale-Ward, David Mack, Christopher Marston, Catherine Moynihan and Dr. Larry Richard.  I am also very appreciative of the strong endorsements provided by legal leaders and luminaries: Lisa Damon, David Foltyn, Susan Hackett, Tim Mohan, Tom Sager and Gary Sasso.
Book Endorsements:
"Susan Saltonstall Duncan is the undisputed master in capturing and articulating the keys to leadership in law firm/client relationship management. As someone who studied and coached firms on these issues long before others found it fashionable, she has both a long view and a wide lens on the law firm business model and what makes their client relationships successful. No one is better positioned to understand the realities of client loyalty and the relationship qualities that engender it (or diminish it). In this new book, readers will be privy to her treasure trove of strategic principles and practical tactics: I find her work in the areas of succession planning, "distinguishing" value (in a marketplace full of excellent but fungible service providers), and life-cycle conversations about expectations and collaboration particularly valuable. Given ongoing disruptions to the law firm business model, rapidly changing client expectations and increasing competition from other providers (from the law department itself, to newly established law companies), how could a law firm leader (or future leader) overlook the opportunity to leverage Susan's wisdom?" – Susan Hackett, CEO, Legal Executive Leadership, LLC, and former general counsel of the Association of Corporate Counsel (ACC – from 1989-2011)
"Building Enduring Client Loyalty distills a host of best practices and insights that teach us that client loyalty is less about what clients give to us than what we give to them." – Gary L Sasso, President and CEO, Carlton Fields
"Building Enduring Client Loyalty reflects Susan's considerable knowledge and experience, keen insight and deep legal industry connections. It is an easy-to-read, concise yet thorough and practical tutorial on a most important and timely subject for law firm leaders to understand and drive within their law firms in order to succeed and grow in today's challenging and competitive legal marketplace." – David Foltyn, Chair and Chief Executive Officer, Honigman LLP
"This treatise by Susan Duncan, and her collaborators, is an exceptional in-depth and invaluable resource for general counsel, managing partners and their lieutenants in developing sustainable working relationships with their law firms, suppliers and clients. The timing of this publication could not have been better given the current environment. As Building Enduring Client Loyalty suggests, building strategic long-term relationships is the key to success. Everyone within the firm, including the senior partners and 'rainmakers', must put their self-interest aside and do what is in the best interest of their client and the firm. At DuPont, we emphasized the importance of investing in each other's success, which this publication does so well." – Thomas L Sager, former General Counsel DuPont and creator of the DuPont Legal Model
"Susan Saltonstall Duncan has always been a leader in our industry, guiding law firms and other service providers to understand and deliver on a true value proposition. She has made a name for herself as a practical, thoughtful leader focused on ensuring that clients are "delighted." Susan has insight ranging across the legal landscape, grounded in real-life issues and actionable advice. This book, Building Enduring Client Loyalty, brings together Susan's counsel and leadership and, given the environment we are working in currently, her advice is even more relevant and needed. As clients search for their footing in the modern world and turn to their legal providers for far more, Susan's advice is timely and focused. She covers how to build a framework that ensures the right client focus but she also includes incredibly important advice on issues such as succession planning and onboarding new client relationships. Of particular note, Susan includes a "healthy client roadmap" that lays out the core principles and practical steps to making us all more client-focused and driven to build client loyalty. I highly recommend Building Enduring Client Loyalty to legal service providers in all industries." – Lisa Damon, Partner, Seyfarth Shaw LLP
"Enduring client relationships are the key to success for all law firms. Building Enduring Client Loyalty is full of practical insights for creating and maintaining these relationships. Lawyers looking to build their practices would do well to read this book." – Tim Mohan, Chief Executive Partner, Chapman and Cutler LLP
RainMaking Oasis provides consulting and coaching services to law firms and lawyers in the areas of client loyalty and development, business development and growth strategy, collaboration and innovation and succession planning. Please contact Susan Duncan at sduncan@rainmakingoasis.com.
---