How Talent and Culture Can Provide a Competitive Advantage
This article was co-authored by Susan Duncan of RainMaking Oasis LLC and Simmons "Pat" Patrick of Forsyth Search Partners, LLC, a retained executive search firm focusing on senior administrative and operational leadership positions in law, accounting and other professional service firms.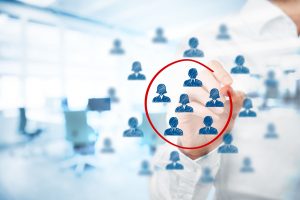 Human Capital as a Differentiator
Mercer HR Consulting, a global HR consulting firm, undertook a leading-edge study regarding human capital strategy.  They found that the last remaining source of competitive advantage was an organization's human capital – its employees – and more importantly, the system of six human capital drivers through which those employees are managed:
People
Work processes
Managerial structure
Information and knowledge
Decision-making
Rewards
How a b
usiness manages its human capital not only influences its culture, but also its ability to differentiate itself in the marketplace.  If managed properly, a firm's human capital can establish a competitive advantage that other firms cannot replicate.  Even if two firms have similarly stated values, practices, highly skilled attorneys, investments in training, marketing,  knowledge management, business development and technology and adopt the same "best practices," one firm can significantly outperform the other as a result of the culture they establish and the talent they hire.  Law firms continue to offer knowledge, judgment, responsiveness, expertise and solutions to legal and business challenges as their primary "product." These are all intangible assets which require careful management, development and nurture.
How Trends Have Impacted Law Firms' Talent and Culture
In Mercer's Global Talent Trends 2019, 73% of executives predicted significant industry disruption in the next three years. While their study did not include law firms, we are seeing significant disruption in the legal industry as well and the predictions and findings in the report are easily adaptable to law firms.  We also know that the competition for attracting the best talent will continue to challenge firms. The study cited the top seven human capital risks that companies face:
Excessive time to fill positions
Low or declining employee engagement
Inadequate diversity
Thin leadership pipeline
Ineffective hiring decisions
Lagging productivity
Slow decision-making
Adapting to the disruptive economy is going to require an integrated talent strategy but too often, key talent functions are siloed in firms: associate recruiting, lateral recruiting, training and development, employment options (remote, part-time, personal leave, etc.), contract staffing, compensation/benefits, staff and professional management, outsourcing and advancement/career path.  These functions often are headed by different people whose priorities and alignment with business strategy aren't always in sync and who often aren't communicating regularly with one another. Firms that succeed in the future will be those that pull the people who head these functions together to develop and implement a comprehensive talent management strategy.
Three Areas In Which to Focus  Talent Strategies
The Mercer study cited four key trends to watch: align work to future value, build brand resonance, curate the work experience and deliver talent-led change.  We have modified three of these to apply to the law firm workplace.
Align Work to Future Value:
According to the survey, upskilling and reskilling moved up the executive priority list from ninth to third place. Given the changing nature of skills required to meet client needs and deliver the value clients are seeking, it is critical to reconsider the skills gaps you may have and how you might retool and redeploy your talent. Some considerations include:
Align recruiting needs, whether associate or lateral partner level, to practice group and firm business strategy
Use psychometric/personality assessments for fit and predictive success
Ascertain skills required today and in the future and assess skills gaps and skills redundancy; match skill supply with work demand
Build core competency models and development programs that are customized to the skills and preferences of employees and that reskill the workforce as needed
Hire a truly diverse talent workforce and facilitate strong, collaborative work teams
Redesign jobs to deliver greater value; rethink job requirements, positions and recruiting approaches to best fit talent skills, experience and status (contract versus full-time) that aligns with business goals
Develop promotion, advancement, compensation and bonuses that allow for strategic hires and reward for the highest in-demand skills
Focus on how to leverage experienced employees past normal retirement ages
2. Build Brand Resonance:
 Younger employees today care about the businesses in which they work.  They want to find meaning and value in the firms and understand what their employers stand for and believe is important.  According to the survey, employees feel the greatest sense of professional belonging to their companies. There is a blending of work and social identity and employees now have a collective voice on their companies' culture, values and ethics/fairness.  The following are steps firms can take to strengthen their brand with employees:
Find out what it is that draws attorneys and staff to your firm and develop a strong value proposition to share with prospective employees
Make sure your brand continues to resonate with attorneys and staff after they have been employed – seek feedback and be prepared to address issues that detract from the brand and the culture
Determine what it is that will make top talent stay at your firm, e.g., career path opportunities, health benefits, flexible work schedules, compensation, leadership or a focus on wellness/balance. Be aware that there often are gender, generational and experience level differences so adjust accordingly.
Use predictive assessments to be sure you are hiring the right employees who share the firm's values and will be fit in the culture.
Make diversity and workforce equity priorities with measurable outcomes.
Review your corporate social responsibility policies to be sure employees can fully participate in and observe the firm living its values.
3. Manage the Work Experience:
 The concept here is to make it easy, transparent and digitally-enabled for attorneys and staff to get work assignments, gain experience and new skills, access training and development and collaborate.   A primary goal here also is to improve all employee engagement for everyone in the firm. These are some areas where firms can focus:
Regularly survey and seek input from your associates and staff on their level of engagement with the firm and the work they are doing
Develop/expand your intranet to provide targeted messaging, information that is customized to individual attorneys and staff
Articulate career paths, job descriptions, requirements and steps for lawyers and staff to consider alternatives and new opportunities
Make it easy for associates and staff to sign up for short-term projects, cross-functional initiatives and intra-departmental
Develop career frameworks and core competency models that define skills sets and provide learning for various levels and types of positions
Devise effective performance evaluation processes including real-time feedback, semi-annual career goal-setting and personal performance plans
Invest in and provide on-demand learning opportunities that combine online modules, live simulations and training and experiential learning and that allow employees to improve or gain skills in areas they want to advance
Prioritize and expand an open, honest and supportive culture with mentoring, sponsorship, D&I initiatives and and flexible working models
Make work meaningful – younger employees place a premium on doing work that matters in a workplace that lives strong values.
Competition for exceptional talent continues in a tighter job market and career opportunities continue to change, attracting former would-be-associates to working for start-ups, becoming legal process technologists and technology-enabling experts. Firms that want to remain competitive and distinctive will need to focus on their human capital and devise communities and cultures that empower employees and generate employee engagement and loyalty.
RainMaking Oasis provides consulting, training and coaching services to law firms and lawyers in the areas of business development and growth strategy, innovation, client retention and expansion, succession planning and leadership and personal effectiveness skills. Please contact Susan Duncan at [email protected]
---