Smart Growth Part 3: Using PESTEL and SWOT to Inform Strategy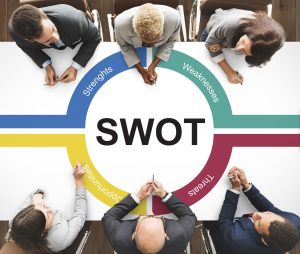 Our second post in our Growth series, Your Strategy Must be Much More Than a Plan, suggested new, more creative and aggressive ways to think about your strategy.  Both Porter's 5 Forces and the Blue Ocean strategy described in that post require a foundation in good research and intelligence that when converted into analysis and extrapolation help drive smarter, market-driven decisions about growth and priorities.
There are two tools that if used correctly, are very effective in helping analyze business and market opportunities: PESTEL and SWOT. We suggest using both: the PESTEL to populate the external market forces in your SWOT and the SWOT to complete the analysis including internal factors.
PESTEL Analysis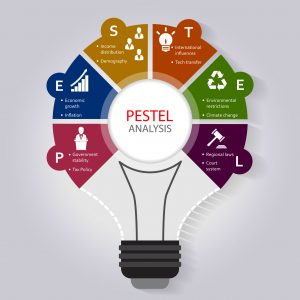 PESTEL, which stands for Political, Economic, Social, Technological, Environmental and Legal, is a tool to help you understand the external factors that could influence your firm. For the most part, they are out of your control (although lobbyists make a healthy living trying to effect change related to environmental and legal trends!)  PESTEL analyses can help you verify whether the direction your firm wants to go in will be in sync or at odds with market growth and opportunities.  Unlike a SWOT (see below,) PESTEL will only consider external forces.
In each category of the PESTEL analysis, you will consider the following:
Political Factors: How will upcoming elections at the federal, state and local levels impact our industry? Our clients? Our clients' industries?  Certain practice specialties? How will economic development, infrastructure, trade, fiscal and tax policies affect our clients?
Economic Factors: What is the current economic outlook? What impact will the next recession have on our markets? Our clients? Our firm? How will the stock market, interest rates, consumer confidence impact our client's business, hence our business, growth and profitability? How will employment/unemployment rates impact us? The cost of raw materials? Foreign exchange rates?
Social Factors: What are demographic trends in our markets? Our clients' markets? How are our clients needs changing? What impact will the baby boomer and millennial generation have on the workforce? Our firms? How will new attitudes toward the work environment, work and life values, diversity, wellness and other issues impact our firm's culture and management requirements? Our clients'?
Technological Factors: How will AI and other automation tools change the way we practice and deliver services to clients?  How is technology, e.g., social media, iPhones, the Internet of Things (IoT,) driverless cars, data driven and predictive healthcare, 3-D printing, drones — changing society – our behaviors, values, attitudes? What new methods of delivery and distribution, manufacturing and logistics will develop? How will this impact our firms and our clients, negatively and positively?
Environmental Factors: How will climate change affect our clients' businesses? What are our clients' and their customers' attitudes toward "greener" and more sustainable energy, manufacturing, disposal and recycling? What are our clients' and our firm doing to reduce our carbon footprint? How much do our clients value Corporate Social Responsibility (and do we have a policy on this?)
Legal Factors: How will new and existing regulations related to tax, employment, environment, trade regulation, national security, immigration, anti-trust, privacy, consumer health and safety — impact our clients? How might new regulations at the state level impact law firms, e.g., Rule 5.4 allowing non-lawyers to share in the profits of or conduct business offering legal services?
The SWOT Analysis
SWOT stands for Strengths, Weaknesses, Opportunities and Threats.  SWOT has fallen a little out of favor in part because the analysis often is not created using factual data and knowledge. If done correctly, though, it can be a very useful exercise, in part because it is a succinct and visual way to look at areas you need to improve, act upon, take advantage of and monitor.  A SWOT analysis if completed using research and information that is thorough, current and accurate, serves as a springboard for establishing your firm's goals and priorities.
Internal (you can control or influence)
External (you cannot control but can monitor and react to)
STRENGTHS – Build on these
OPPORTUNITIES – Anticipate and act upon
WEAKNESSES/AREAS FOR IMPROVEMENT – Shore these up
THREATS – Monitor these and be prepared to shift focus of practices or markets
Internal Factors that Could be Strengths or Weaknesses:·

– Talent quality
– Recruiting and talent pipeline and retention
– Diversity
– Talent demographics
– Financial performance, strength, resilience; KPIs
– Technology
– Operations, facilities, infrastructure
– Marketing and positioning
– Track record of success; quality of product and outcomes
– Leadership and governance      Culture and values
– Quality, size or breadth of client base
– Client loyalty or turnover

External Factors that Could be Opportunities or Threats:(see the PESTEL analysis above)

– Megatrends: Political, Economic, Social, Technological, Environmental, Regulatory, Legislative
– Market trends geographically, by industry, by type/maturity·       – Legal industry trends and regulation, e.g., non-lawyer ownership?
– Competition
– Client trends, e.g., pricing, convergence, building in-house departments, needs, direction
How to Use These Tools Effectively
One of the primary reasons that SWOTs are ineffective is that firms do not conduct a thorough PESTEL Analysis using external market data including critical and direct input from clients, prospective clients and other "influentials."  Firms that conduct research may do a cursory review of trends using secondary research sources, but rarely conduct robust primary research – interviews and surveys with the buyers of legal services.  Extrapolated from an article entitled 5 Reasons to Break Up with SWOT Analysis, the following are some common problems or limitations with SWOTs and how your firm can overcome them:
| | |
| --- | --- |
| Common Problem | Solutions – How to Remedy  |
| 1.      Internal bias: you rely too heavily on your partners' perceptions and gut about trends, your performance and the marketplace | Conduct the PESTEL before you do the SWOT – should provide data on megatrends, market, industry and competition.  Conduct primary research with clients, prospects and other important influencers. |
| 2.      No prioritization: SWOT organizes strategic factors that impact your business but doesn't prioritize them | Use client input to help guide discussion about priorities. Within the SWOT, the leadership team (comprised of lawyers and professional staff) rank the importance of each SWOT item. |
| 3.      Doesn't translate into action: A SWOT does not provide guidance on what to do or how to do it | Once you have prioritized each SWOT item, convert items directly into annual goals, strategies and tactics – the timeline will be associated depending on the level of importance. |
| 4.      Too high level: often too much information and done at firmwide level | Conduct SWOTs at PG, industry, office/market and firm operations levels |
| 5.      Not used consistently or constantly: risk missing changes in the market, don't act quickly enough | Review/modify SWOTs on a quarterly basis at business unit levels |
If you want to forgo the SWOT tool, at least ask yourself the kinds of questions suggested by Porter in his 5 Forces and by Blue Ocean strategy 9 (see our last post):
What are our clients buying now? In 5 years?  10 years?
How do they make their purchasing decisions? Who makes them and on what basis?
What do they value about us? What do they value about other providers?
How will megatrends impact their industry? Their business? How will those trends impact our practices?
What new needs will our clients have? Are there any unmet needs now?
What are our competitors' unique advantages? Value? (this has to be derived from what you learn directly from your clients)
What are we doing that is not bring value to our clients? What are we doing that is not distinctive or profitable? Should we stop doing some of these things?
Should we change our business model? Our delivery methods or channels? Our talent mix?
What makes our firm/your offerings distinct/unique?
Where will your next Blue Ocean opportunity be?
RainMaking Oasis provides consulting, training and coaching services to law firms and lawyers in the areas of business development and growth strategy, innovation, client retention and expansion, succession planning and leadership and personal effectiveness skills. Please contact Susan Duncan at [email protected]
---