Succession Management Pillar 4 of 5: Leadership Succession and Knowledge Transitions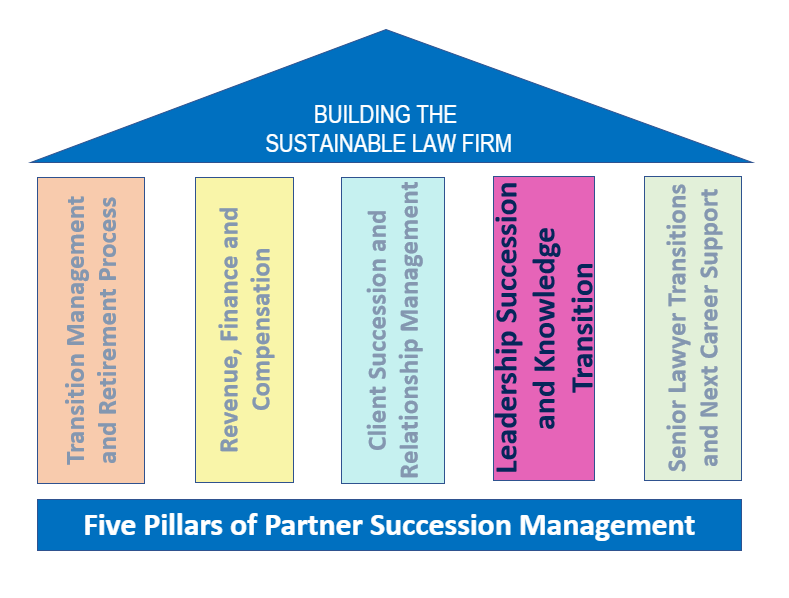 There are many complex issues related to succession. We have reviewed many of these already in our previous three posts which can be found here, here and here. In this fourth pillar, we will address two important areas that pose particular risk for law firms in two key areas: leadership transitions and loss of knowledge.
Loss of Knowledge
In the context of this succession topic, we are defining knowledge broadly: it could be in the form of unique institutional knowledge a senior partner has of the firm or of clients, it could be a distinctive area of expertise that no one else in the firm has fully developed or it could be other important community-facing connections and ties. Any one of these could diminish something valuable the firm currently benefits from.
Our Pillar 4 post recommended several steps to help firms analyze its demographics in anticipation of possible retirements over the next ten years. It is important to consider what special skills and knowledge each partner aged sixty and older contributes to the firm and to assess the strategic importance of senior partner expertise, roles, gaps and threats.
There are a number of considerations and steps to take:
Practice Specialties. Practice Group Leaders/Department Chairs should be taking a close look at specific areas of expertise that might be lost when senior partners retire. This would include an assessment of the marketplace for that specialty and whether clients and the firm would continue to benefit from this service offering. Ideally, other partners and associates would have been trained in this area but it is not uncommon to find an area of expertise resides only with a specific partner. If the specialty is deemed critical to the practice going forward and others have not been groomed, the firm may need to hire laterally and be sure the senior partner is committed to the eventual transitioning of that practice and client base.
Firm History and Culture. It is difficult in many firms today to inculcate what it is that makes the firm a special place to work. Unfortunately, a focus on short-term profits and immediate gratification, the influx and outflow of partners from departures and lateral hiring and a diminished sense of institutional loyalty means that many firms struggle to maintain a sense of culture and history. Many partners seem to no longer care about leaving a legacy, either as a firm or as an individual. Building and maintaining a sense of history, culture and what makes a firm special can be a differentiator in an otherwise competitive environment. Before founding partners or others who have been at the firm a long time retire, conduct video interviews with each of them about the firm's history, their stories and what the firm's mission has been.
Community Involvement. Especially in regional firms or global firms with "local" roots, many senior partners have played key leadership roles in civic and charitable organizations, serving on Boards and contributing to the success and vibrancy of their communities. Traditionally, a substantial amount of business was generated for firm through these activities and relationships. It would have been hard to find a major rainmaker 30 years ago who wasn't actively involved and visible. If your firm is committed to a tradition of philanthropy and community involvement, it should map out a strategy for key organizations and develop a succession plan for next generation replacements while senior partners still have sway to put younger partners on those boards.
Leadership Transitions
Most law firms' talent strategies traditionally focused on new and lateral associate hiring, associate training and advancement to partner and lateral partner hiring. Few have designed the kind of leadership pipeline and development programming that is more often seen in the corporate sector where leadership and succession are considered integral and ongoing components of the talent lifecycle, not as occasional events that focus on individual leaders and retiring partners.
The Society for Human Resource Management published an excellent white paper on succession management called Developing Leadership Talent: A Guide to Succession Planning and Leadership Development, describing it as follows:
"Succession management helps to provide continuity in the leadership pipeline to develop a deeper capacity for leadership and performance. But to implement an integrated and effective succession management process there first needs to be an explicit link drawn between what the organization values as talent and the core strategies of that organization."
Too many firms today are still led by managing partners and department chairs who have been in those roles for ten, twenty or thirty years. It is difficult to imagine that in today's rapid pace of change, pressures and risks that leaders can maintain the energy and insights required over decades, or that leaders can or should be expected to contribute that kind of energy and time. There also is the likelihood that many who stay in the same leadership positions for more than five to ten years may not be able to initiative or adapt to change as quickly and nimbly as needed now.
Since many firms have not developed a comprehensive talent and leadership program, it is common that firms find themselves with a dearth of qualified future leaders. This is often the reason that managing partners give for why they have not transitioned leadership to the next generation. Fortunately, many more firms are now identifying and grooming their future leaders and investing in their development, both through promoting them into deputy roles for leading practices and offices, serving on important committees and often providing internal or external leadership training.
In a blog we previously published on Transitioning to Tomorrow's Leaders, we offered a number of steps firms can take to implement an effective leadership succession program:
Identify the most critical roles needed for the firm's future
Identify the skills and traits required of each of those leadership roles
Define the roles and responsibilities; draft job descriptions
Develop a core competency framework
Recognize high potential candidates early; incorporate into performance review process
Beware of the "in my own image" or top rainmaker trap; accelerate the selection of diverse candidates for leadership
Train and groom high potential leaders five to ten years before they might be asked to take on key roles
Provide good "on the job" learning opportunities through committees, task forces and deputy roles
Develop framework for firm governance including term limits, expectations, recognition and compensation and methods for supporting leaders as they "re-enter" active practice
Some Common Challenges and Ideas for Addressing
In 2016-18, we conducted workshops for various chapters of the Association for Legal Administrators on succession planning. During break-out sessions, participants brainstormed to develop proposed solutions to the challenges posed. We included three of these below.
Problem 1: You have no term limits and your MP has been governing for 25 years and there doesn't seem to be an identified successor. In addition, 80% percent of your management roles are filled by white, male partners 60 or older. What should you do?
Proposed Solutions 1:
• Identify more than one potential candidate and begin grooming them
• Review partnership agreement and set partnership limits and partnership track
• Consider a committee of Managing Partner and Deputy Managing Partner
• Create a management committee of partners under 50 to come up with future, long range plans for the firm
• Let junior partners buy in to the firm, get equity and take an interest in future leadership
• Hire a professional to help train a successor
• Hire laterals with business
• Have executive committee discuss and address this
• Institute a diversity program to hire young minorities
• Establish a mentoring program
• Have a strong female, legal administrator as part of the leadership team
• Research and develop diversity committee and recruit
• Implement a more intentional recruitment effort to improve gender and ethnicity representation
• Revise partnership agreement to allow for hiring and development of partnership
Problem 2: You need a new generation of leaders and rainmakers but you fear you don't have them ready to successfully replace those who will retire.
Proposed Solutions 2:
• More formally institute more shadowing of mentors/managers
• Require non-billable marketing and management hours of all attorneys
• Discuss future plans and goals with young attorneys
• Put annual development plans in place and engage consultant/coach for identified high potential associates or junior partners
• Work with headhunters for laterals or other potential leaders
• Provide mentoring – integration with client
• Connect client generation with generation of attorney
• Put less focus on origination in compensation
• Incentivize for transitioning relationships/cross-selling/mentoring to help build pipeline of successors
Problem 3: Several of your senior partners are founders or have been with the firm for 30 or more years. You worry that the institutional history, values and cultural fabric will fray once they leave.
Proposed Solutions 3:
• Coach both the older and younger attorneys to be more flexible since they will have a lot of generational conflicts
• Institutional history, values and culture are important and they have their place; but change is also good
• Interview older partners and create an oral and written history (maybe videotape)
• "Bookend Barristers" program in place at one firm – older attorneys are regularly meeting with younger attorneys and sharing the history and discussing the culture of the firm
---