Succession Management Pillar 3 of 5: Client Succession and Transition Management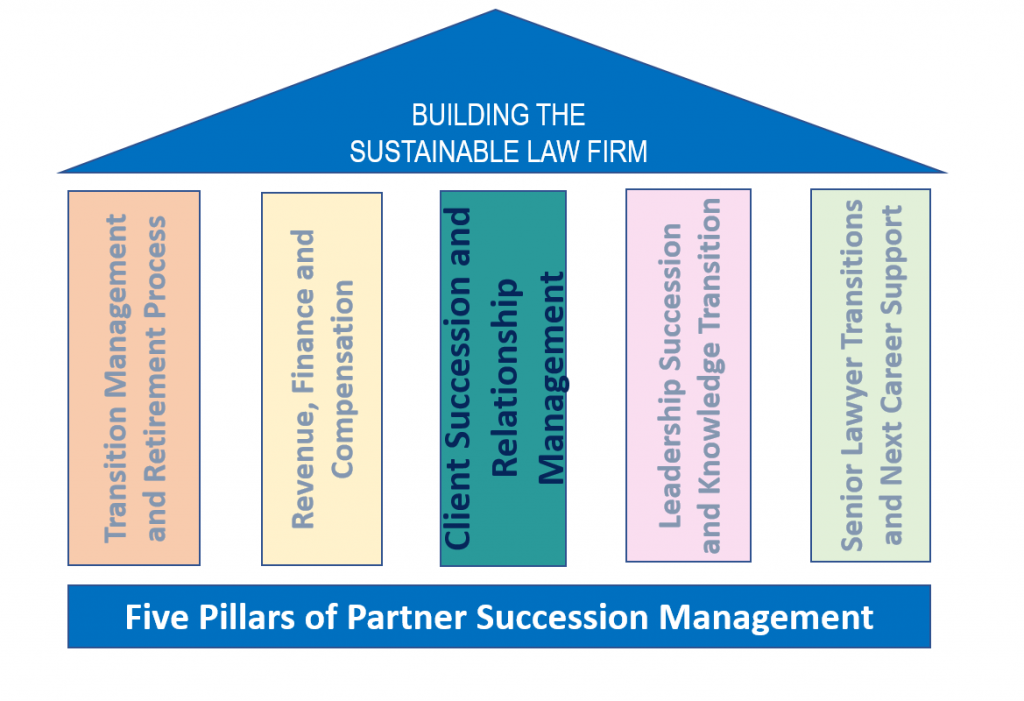 This post follows two prior posts and addresses the third pillar of succession management. Like many aspects of law firm management, the subject of succession planning often is limited to internal firm or management discussions and consideration.  This is a mistake. Clients know and worry that senior partners may be nearing retirement, and absent any proactive outreach, may begin to make assumptions and start transitioning work to other firms.  Clients also must have a say in who their relationship successor will be. Again, firms often identify someone and announce this to clients. This assumes clients will agree to and like the choice.  This is a risky assumption.  Succession is not an issue confined to law firms — Sterling Miller who spent 25 years in-house, wrote an excellent article Ten Things: Succession Planning for In-House Legal Departments, and the topic has appeared more frequently on the roster of topics at ACC conferences.
Firms that are most successful with institutionalizing clients are the ones where succession is less of an issue because numerous capable lawyers have been introduced to clients throughout the lifetime of the relationship.  In these firms, no client relies on a single partner. In many firms, however,  compensation models encourage client relationship control by those who are the top partners on client accounts.  In some instances, partners prevent other partners from freely contacting or entertaining "their" clients.  McKinsey, the Big 4 and the traditional lock-step firms that now have modified lock-step (Cravath, Latham, Cleary Gottlieb, Sullivan, Paul Weiss, Davis Polk and others) customarily have rewarded partners for servicing clients at the highest levels even if they didn't originate the business.
Unfortunately, there is so much competing for credit in many partnerships that even clients are tired of it (How do we know this? Clients actually mention this during client interviews.)  Firms will have to consider their compensation policies in order to effectuate smooth client transitions.
There are a number of steps and components to address in this pillar of succession management:
Client analyses.  Do a three-five year trend analysis of top 80% client revenue broken down by service specialty.  (This exercise is important to do at all times, not just for succession purposes, since it helps firms assess how broadly the firm is cross-servicing/cross-selling clients.) Analyze to see which partners, practices and offices have been engaged with clients then develop a relationship map for each client that includes key members of the client's team matched to the firm's partners and associates.  Don't forget that GCs and other decision-makers may be nearing retirement or transitions also, so include them in your analysis.  For all clients, identify the ages of key contacts at the client as well as at the firm to identify who is in need of relationship focus or succession.
Client successor(s).  Too often, a partner has retained such close control over a client relationship that once retirement nears, there is no one in the next generation that is a good fit to become the successor.  In fact in a number of firms, there is a dearth of middle generation partners because those that were coming up hit a ceiling, did not get access to relationships and left their firms. Again, ideally, client successors should be identified five to ten years before a partner retires, but certainly no later than three years.  In some instances, two partners will have to serve as successors – one who is more of the trusted advisor and the other who might be a top subject matter expert in the client's industry. Whereas traditional rainmakers used to play the dual role of the general trusted adviser and the practice specialist, it is rare to find this today in a single partner.  In some instances, firms have to hire laterally for a successor.
Gather information about the client.  There are a number of steps firms will want to take when transitioning a client relationship from one partner to the next (again, this part of the process is something firms should be doing with all key clients whether or not the relationship partner is nearing retirement.)  The first is to develop a central repository on each client served by partners who may transition in three to five years. This will include gathering important information about the client and the firm's relationship with the client:
Financial data for history of client to assess trends and services utilized
A relationship matrix that identifies and matches firm lawyers' relationships with different members of client organization
Client's organizational chart
Client's panel of law firms and procurement policies
Client's annual plan, 10Ks, 10Qs
Competitive intelligence report, litigation and deals
Market research on client industry and competitors
The relationship partner and the successor as well as others in the firm that serve the client should meet to review the information, discuss any concerns or obstacles, and identify specific issues to raise with the client.  This should be converted into a client succession plan including timelines.
Engage with client about succession plan. Once the successor(s) has been identified and the internal team has met to discuss the client (even if the team is just the current relationship partner and the successor), the relationship partner should meet in-person with the client to discuss his/her plans and to discuss the proposed successor. Shortly thereafter, the successor should be introduced to the client decision-maker as well as others at the client that interact with the law firm.  Ideally, the client has already met and worked with the chosen successor and has a familiarity and comfort level with the partner, but this is not always the case.  Asking the client for input on the successor selection is critical.
Gauge and enhance successor's progress.  The senior partner and the successor should be implementing a previously devised plan for gradual transition of the relationship. This will include having the successor begin scheduling and leading meetings, sending the bills and soliciting feedback on the firm's servicing of the client.  The managing partner should also meet with the client several times during the two to three-year transition period to gauge how well the transition is going so that any issues or concerns can be addressed.  This is a critical phase of the transition as the client may be assessing whether or not this is the time to make a change in outside law firms. It is best to encourage open and honest dialogue in order to make any course corrections necessary, which in some cases might even include changing the successor. If the client is generally happy with the choice and how things are going, the successor should be accelerating efforts to deepen the relationship, loyalty and value enhancement. Successors often benefit from some coaching from the relationship partner, another partner who is expert at client development and/or the BD professional in the firm.
Monitor transition of client responsibility. Once a formal succession process has been put in place, firm management (either the managing partner or department/practice group leader along with the firm's CFO) should beginning to assess actual transition metrics.  This can be accomplished by:
Meeting with the successor to gauge actual transition; and
Reviewing metrics: working hours on client files by successor, transfer of origination or billing/matter credit
Since succession planning can be challenging for senior partners and firms alike, any successes in specific succession transitions should be communicated, recognized and rewarded. One firm has added a column to their online individual partner reports dedicated to transition metrics.   It indicates the hours/billings a senior partner has transitioned to a successor.  In this scenario, the compensation system rewards both partners: the partner doing the transitioning/transfer and the successor.
Some Common Challenges and Ideas for Addressing
In 2016-18, we conducted workshops for the regional business conferences and various chapters of the Association of Legal Administrators on succession planning.  During break-out sessions, participants brainstormed to develop proposed solutions to the challenges posed.  We included three of these below.
Problem 1: You don't know which clients of the firm are at risk due to potential retirements and what the history and relationship status with those clients has been/is.
Proposed Solutions 1:
First run a report on partners 55+ and look at where the clients are
Review top clients to see who is the originating partner/billing partner
Analyze highest revenue clients in terms of all other partners in the firm that have relationships with those clients, who has worked on their matters and all timekeepers
Run a report of average originations per partners for last three years; take aggregate of that; assess client responsibility transferred onto successor
With each partner indicated, identify other partners who can continue to service these clients
Leverage talent, e.g., identify best talent of transitioning partners, leverage with that client, move other attorneys into client relationships in other capacities
Complete an attorney age and revenue analysis
Give a financial incentive to begin the transfer of client relationships
Problem/challenge 2:  Several senior rainmakers are nearing retirement age but have not introduced other partners to their key clients.  They say clients only want them to handle their matters.   You have finally gotten several senior rainmakers to agree to begin transitioning clients but they say they don't have the right "successors." What should you do?
Proposed Solutions 2:
Identify those partners; encourage transition and incentivize them with compensation
Communicate with the client, understand those clients and what their needs are and whether they have any concerns; confirm with clients that those skills/traits are what the clients want and need in the successor
Create a succession planning committee to engage in big picture/legacy conversations with transitioning partners and have each partner develop an annual, written plan
Find successful examples of retired partners to show options
Next level of partners need to step up and become rainmakers on current and new clients
Have discussions with senior rainmakers
Determine what the successor needs to be successful – then mentor and provide skills development
Adjust hiring process to build this in
If cannot find/develop talent in the attorneys you have, hire laterals, or consider not continuing that area of practice
Ask senior rainmakers what characteristics they are looking for in the right successors
Start bringing potential successors to meetings and case meetings with client so transition is easier
Foster familiarity for client so transition is seamless
Incentivize mentorship with compensation; create a bonus program to reward succession
Prepare a departing attorney report on all clients – analyze billings/dropdowns in similar areas
Problem/Challenge 3: You have no idea if the clients will stay with the firm once their primary partner retires and you fear they might be using other law firms.
Proposed Solutions 3:
Regularly conduct client interviews throughout client lifecycle
Get buy-in from the partnership to go out and have conversations with clients; have meetings with clients and get their feedback on moving forward in order to best support them
If possible, try to cross-sell clients to other practice areas to expand loyalty
Create social occasions to interact with clients and encourage conversation and connections with others
If firm has one, ask the business development executive to gather information (if not, perhaps MP or outside consultant); do a competitive intelligence report
Analyze clients' social media, press, Lexis Nexis to see what other firms they might be using
Identify more than one potential candidate to be successor and begin grooming them
Review partnership agreement and set partnership limits
Let junior partners buy into the firm, get equity and take an interest in future leadership
Hire a professional to help train successors
Have executive committee discuss and address this
Establish a mentoring program
Implement a more intentional recruitment effort to improve gender and ethnicity representation to break the cycle of unconscious bias in selecting successors
---