A Race to the Bottom for the AmLaw 200 and Below? Doesn't Have to Be.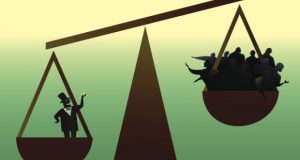 A month ago, at a conference on change management, a managing partner of an AmLaw 200 firm asked a question that likely weighs on the minds of most AmLaw 200 managing partners, some of the AmLaw 100 firms and many of those below the top 200. His question was:
We hear all the time that clients balk at law firm prices, force fee discounts, want more for less and pull more work in-house, but in the meantime, they are still paying the top firms $1,200, $1,500 or more per hour to the elite firms even for non-bet-the-company work. For firms like ours, it is a race to the bottom in order to compete for work. What's the solution? How can we compete and stay alive?
Revenues and Demand are Up, The Rich are Definitely Getting Richer, but Things are Volatile
Four significant industry surveys were released in the month of May:  Citi 2018 Q1 Law Firm Survey, the 2018 Altman Weil Law Firms in Transition Survey and the 2018 AmLaw 100 and AmLaw 200 reports. There was some discrepancy in how recent findings were conveyed or interpreted, but they shared several common themes related to demand, revenue and profitability:
Overall, demand growth surged in Q4 2017 and continued in Q1 2018, but collections slowed down, and expenses grew, for many firms negating revenue growth (Citi report)
The elite firms, the largest firms and the most profitable firms continued to pull away from the majority – this was true in both the AmLaw 100 and the AmLaw 200 groups and certainly between the groups:

The AmLaw top 50 reported the best results in Q1: AmLaw 100 saw a 6.3% growth in PPP
15 of the top 20 most profitable firms were based in NY; profit margins for the top 20 ranged from 47-65%
There was 5.5% revenue growth for AmLaw 100 firms in 2017 compared to a .2% decline for the AmLaw 200, although the top firms in the AmLaw 200 group saw an increase in 2.7% which is better but still only half of what the AmLaw 100 average increase was
8 of the second hundred firms had revenue growth of 10% and another 22 had revenue growth of 5%, but 32 firms saw revenue shrink (AmLaw 200 report)

Volatility in the market is still present: 47% of firms saw a decline in revenue in Q1 (Citi report) and 27% saw demand decline in 2017 and Q1; most firms have seen up and down trends in demand and revenue growth from quarter to quarter and year-to-year
The trend immediately following the 2009 fall-out of work flowing to the second 100 firms as a better cost alternative has ceased for the most part
As Altman Weil has reported in its last three or four annual surveys, managing partners acknowledge that the pace of change is increasing, the demand for law firm services will continue to remain flat at best, technology and alternative staffing and service options will continue to disrupt, and the traditional law firm business model will continue to deteriorate. The firms that will survive and excel will likely fit into one of only a few categories:
Top elite firms, many of which are the original Wall Street firms but joined by other "bet-the-company", top-tier non-NY based firms, e.g., K&E, Latham, Gibson Dunn, etc.
Those with a differentiated brand (as defined by the marketplace not the firms!) e.g., niche expertise, industry focus, practice focus, service delivery, geographic market
Global firms that get a handle on the cost of running so many offices by streamlining expenses, investing in technology and automation solutions and developing strong brands
Firms that invest (by putting aside money from the end-of-year partner profit pool) in business strategies, practice/delivery innovations and new business models
Clients Will Still Pay Top Dollar for Marquee Partners
Several star partners have left Cravath in the last three years to join Kirkland & Ellis, Paul Weiss and other elite firms. Recent articles, including one in the New York Times titled $11 Million a Year for a Law Partner? Bidding War Grows at Top-Tier Firms attribute these departures to the firm's traditional lock-step compensation model which prevents "stars" from being compensated at much higher levels. It seems that there are now several elite firms paying partners $10 million or more plus signing bonuses to jump firms. This may explain the $2,000+ per hour billing rates noted previously.
Most firms will not be able to compete at this level, and even non-elite firms often are paying excessively high payouts with three- or five-year commitments to buy talent and their books of business. As Bard Karp, chairman of Paul Weiss noted in the NYT article, "We have crossed an irreversible threshold from institutionalized clients loyal to a law firm for decades, as partners and general counsel come and go, to a more transactional world where law firms are only as good as their last deal, and Fortune 500 firms increasingly look for marquee lawyers (yes, backed up by prestigious firms with impeccable boardroom credentials) more than they hew to traditional relationships. Marquee names matter in ways they didn't ten or twenty years ago."
This phenomenon will not likely change as clients continue to be willing to pay top dollar for these stars. This trend is not one that most firms will be able to combat.
What Can Am Law 100, 200 and Smaller Firms Do to Stay Competitive or Stay Alive?
There are several approaches the non-elite firms are taking to secure their place as a preferred outside provider at a time when many clients are in-sourcing routine work and/or sending to alternative legal service providers (ALSPs):
1. Give up trying to argue why you are every bit as good as the elites! Remember, this is a choice clients make. It may be a "CYA" strategy or it may be that clients believe they get smarter lawyering and better results from lawyers at these firms. This is a non-starter to try to disprove.
2. Engage in and lead with market-based, client-facing research and dialogue. There is still a considerable amount of "navel-gazing" going on in law firms even when it comes to developing responses and new approaches to cope with the current industry disruption that is occurring. For a firm to excel you need to engage in discussions with clients and get much more granular about their needs, as well as explore their own internal operations initiatives. Clients are striking alliances with vendors to explore new solutions which will help cultivate new clients as well as better service current ones. To get ahead of this trend firms need to hold a series of focus groups with clients and solutions vendors or develop an innovation advisory board comprised of clients, vendors and other thought-leaders.
3. Have a strategic plan and implement it. Firms that have made serious commitments to developing and following a market-based strategy have been more successful than those who haven't. A sound plan incorporates external intelligence and contrasts it against the current plans which tend to focus on internal data and assumptions. The result of this analysis will force some difficult decisions about where to peel off practices or offices and where to invest in growth.
4. Be nimble – (re)invent practices and service offerings. Part of the mandate in McKinsey's strategic plan is that within five years, 50% of the firm's service offerings and revenue should be represented by new services/solutions that didn't exist before. Apparently, Deloitte has a similar goal but for 25% of their services/solutions. This ensures that the firm's services are changing with the needs of the market and that partners and other professionals are continually refreshing and learning new skills and expertise.
5. Consider your "product"/service mix, staffing and pricing. We used to think that you had to position and brand as either had to be a high end, "bespoke" service provider mostly serving clients in the top 20% of their high end legal work, or serve the lower end providing routine services where price determines selection.  There are firms that are serving both ends of the spectrum and along the continuum — some consciously and with strategy around pricing, staffing and even location, others by default without an eye toward profit metrics and efficiency. Doing this effectively will require careful attention and commitment to best business practices.
6. Address succession and chronic underperformers. Without mandatory retirement, too many partners are coasting into retirement. Firms are top-heavy with equity and non-equity partners which create bottlenecks thereby preventing junior and mid-level star partners from advancing. Altman Weil reports that in firms of 250 or more lawyers, 62% of equity partners are not busy enough and 72% of non-equity partners are underproductive. Develop a succession program and address those partners who consistently do not contribute at the financial level you require and don't contribute in other significant ways.
7. Run the business as a business. Develop a broader approach to talent management in response to the changing landscape. Specifically determine what it takes to deliver services and solutions at the right price point, and how efficiently your firm can do so. Progressive firms are employing high level experts to do just that. These experts manage the operations and service deliverables in their firms. e.g., project management, pricing, technology solutions, client experience, practice operations, etc. Given this new trend firms that continue to operate and be managed primarily by partners, most of whom do not have the skills or experience to run the firm's business in this type of environment, will not survive or prosper.
8. Differentiate. The Altman Weil 2018 Law Firms in Transition survey notes that "50% of law firms do not believe they project a distinct, compelling value that differentiates them from competitors" and since that is a self-assessment, the number is likely quite a bit higher. A core element of a strategic plan must be how you will stand-out with tangible tactics and metrics to prove it. Once again, your value proposition and distinct brand should be evaluated and measured by your clients and other important external audiences.
9. Invest in innovation. Both words here are critical. Firms typically run from one year to the next, with the primary goal of increasing PPP and short-term results. Since most firms are not able to radically raise rates, they are more focused on cost-cutting, and until clients demand it, many are not initiating better, more effective or more efficient methods of delivering and staffing client matters. The firms that are climbing in profitability in the AmLaw 100 and 200 have intentionally put aside a percentage of their profits every year to invest in tools and talent. These firms also are creating innovation centers or positions, task forces, contests and using other ways to inculcate innovation.
10. Create the urgency for and lead major change. Major change rarely occurs without a crisis and since most firms realized some nice gains in revenue last year and/or PPP, change is difficult to lead. 69% of the managing partners reported in the Altman Weil survey reported that their partners resist most change efforts. 59% of them feel their firms are "not feeling enough economic pain to motivate more significant change." Short of a financial crisis, one of the best ways to effectuate change is to bring in the voice of the market. Invite in clients to talk to partners about their own internal legal operations innovations, what other legal service providers they use and the advantages, the automation they are striving for, whether the Big 4 or other providers are doing some of their legal work, etc. Changes to the profession are here and permanent – the winning law firms will have leaders who get out in front to lead the change.
---