Law Firm MDPs Part 3 – Integrated Multi-Disciplinary Practices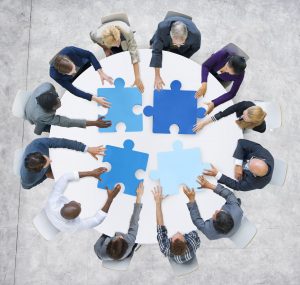 Recognizing the need to approach client problems and needs with broader and deeper substantive disciplines than just legal expertise, law firms have evolved their service offerings to include formal, integrated teams of lawyers, consultants and other professional experts. As early as the 1980s, law firms began to form separate subsidiaries  affiliations and joint ventures to address client needs for special expertise and also to differentiate and market their services to new clients. Since that time, many of the original subsidiaries dissolved or spun out, several still exist and new ones have formed. See our two prior posts,  Law Firm MDPs Part 2: Law Firm Subsidiaries and Law Firm Law Firm MDPs Part 1 – A Primer.
The more recent and prevalent trend for law firms seeking to respond to client needs for a fuller, more comprehensive business solution to their legal needs has been to more formally hire and integrate non-legal professionals directly into the law firm service platform. This model is more closely aligned with how major consulting firms and the Big 4 offer multi-disciplinary solutions to clients. In some cases, these are formally recognized as distinct MDPs within the firm, e.g., the Tax Accounting Group at Duane Morris which we will describe below.  We found at least 18 of these marketed by law firms as internally Integrated MDPs. In other cases, these reside within current practice or industry groups in the firm as in the case of Hogan Lovells' Cyber Risk Services Group and its strategic communications services (described below.)
With some resemblance to the list of disciplines offered through law firm subsidiaries (as we described in our prior blog post,) the integrated MDPs provide the following types of services and resources, many of which are enabled or enhanced through knowledge and technology solutions:
Compliance – state, federal and global:
Wealth management
HR/employment
Environmental and land use
Privacy, cybersecurity and data breaches
Start-up business advice, forms and templates, resources for funding
Public policy, government relations and strategic communications
International policy and trade consulting
Intellectual property/patent
Tax and corporate advisory
Flex-time legal staffing
eDiscovery
When law firms initially began forming MDPs in the 80s, those that were based in Washington, D.C. often did so in the form of wholly-owned subsidiaries. At the time, these provided multiple benefits to the law firms that owned them in that subsidiaries:
Enabled law firms to hire top notch professionals who would not have joined a law firm as they desired independence and authority to run their own business (D.C. is the only U.S. jurisdiction that allows a non-lawyer to share in profits with a lawyer – Model Rule 5.4.)
Allowed law firms to enhance their own brands through the added value of consulting services, expertise and the reputation of the executives hired to run them
Allowed the subsidiary to market independently to non-clients of the firm, in many instances representing clients that either were not originally or never became clients of the law firm, therefore an independent stream of income
These original subsidiaries were fraught with challenges, however.  Since all subsidiaries ran their new clients through the law firm conflicts system, this prevented subsidiaries from representing clients they otherwise could have. Partners in law firms didn't really like or understand the value of subsidiaries and therefore did not make introductions to clients of their subsidiary's professionals and services. Finally, many high level executives brought in to lead and build the subsidiaries got frustrated with the barriers posed by the law firm culture, mind-set and infrastructure.
Law firms with Integrated Multi-Disciplinary Practices have evolved and more often now reflect clients' needs for a multi-disciplinary approach and solutions that combines legal, technical, business, financial and compliance expertise. By way of example, we offer two firms' approaches to this.
Hogan Lovells
Hogan Lovells is a global law firm of 2,800 lawyers with offices in 25 countries and on six continents. Hogan & Hartson, the U.S. firm that combined with Lovells to create the current firm, was among the first law firms to have wholly-owned subsidiaries in the 1980s and was a member of the coalition that drafted the White Paper to the ABA in 1990-91. While both of those subsidiaries, one focused on the education industry and the other on health care, disbanded in the 1990s, the firm has continued to incorporate a multi-disciplinary approach into its service offerings.
In 2012, the firm hired Harriet Pearson who co-heads its Cyber Risk Services Unit. Previously the Vice President Security Counsel and Chief Privacy Officer at IBM for twelve years, Pearson is a lawyer but with substantial business and public policy experience in the private sector. At Hogan Lovells, Pearson oversees a team of lawyers, consultants and risk professionals who provide cyber program development, cybersecurity incident and crisis response, compliance, and training and awareness.  All of the consulting is done under the direction of lawyers who provide oversight and ensure high quality, there is no independent sales or marketing of these services and the group is there primarily to service the existing clients of the law firm. As a reflection of the firm's forward thinking approach and innovative leadership under CEO, Steve Immelt, Harriet also co-leads the firm's Innovation Hub and New Ventures Partners Team.
In early 2017, Hogan Lovells hired Mark Irion, formerly President of Levick Strategic Communications and CEO of Dutko Worldwide, to integrate strategic communications into its practice and industry sector legal services.  Irion, who is not a lawyer, works alongside partners and their teams to align client's interests with strategic communication to achieve better outcomes.  He attends client calls and meetings with partners, practice group meetings and partner retreats. He has found firm partners very open and receptive to better understanding how his expertise can help their clients resolve complex matters by involving effective communication in the public arena as well as sound legal proceedings.
Duane Morris
We discussed Duane Morris in our last post as it is a firm that currently has seven subsidiaries or affiliates. Concurrent with its early launch of one of its subsidiaries over 30 years ago, it also formed an Integrated Multi-Disciplinary Practice 31 years ago.  Duane Morris' Tax Accounting Group (TAG) is a group of lawyers, accountants and tax specialists that is fully integrated into the law firm. It markets as a separate entity and the professionals carry separate business cards than their law firm business card if they also are a licensed attorney.  Chairman and CEO John Soroko reports that there is and always has been strong cross-pollination between TAG and the law firm. Sometimes there is a referral from the law firm to TAG, sometimes from TAG to Duane Morris, and very often clients migrate back and forth.
The Integrated Multi-Disciplinary approach is more apt to be the way Duane Morris builds its MDP service offerings in the future — to respond to the specialized needs of clients within the law firm service platform rather than as a separate subsidiary.
Our fourth and final blog post in this MDP series will describe what we are calling Service Delivery Solutions which in most cases are ways in which law firms are incorporating technology tools and knowledge and process management platforms into their service offerings for clients.
---