Who are Law Firms Really Competing With and Why?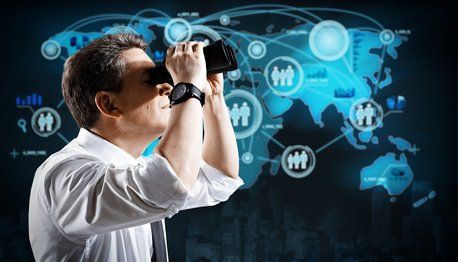 Law firms are facing stiff competition when it comes to holding onto their clients, much less gaining market share. Given the flat growth in available legal work, law firms have been having to "steal" work from other firms to gain share. BTI Consulting's Market Outlook and Client Service Review 2017 reports that while legal spending grew to an all-time high of $102.3 billion in 2016, the portion of U.S. spend on outside counsel remained relatively flat at $60.3 billion (it was $59.9 million in 2015.)  On the other hand, in-house legal department spend grew by $4 billion, confirmation that law firms are competing as often with in-house legal departments as they are with other law firms.
The 2016 Altman Weil Flash survey echoes this trend and also points to increasing competition from other legal service providers. .  In 2016, 82% of law firm leaders believed that competition from non-traditional service providers will be a permanent trend.  This was broken down as follows: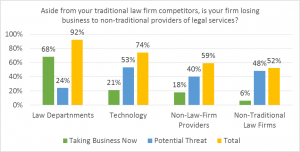 There is no question that the biggest overall threat to law firms now seems to be the continued growth of in-house departments, aided by the rapid emergence of corporate legal operations executives (see CLOC) and others who are focused on driving down the cost of legal services through the use of technology and greater efficiencies.  This trend is likely to continue.
Non-Law-Firm Service Providers Offer a "Complete Solution"
Similar to the continued growth of in-house legal departments, non-law-firm companies continue to proliferate and expand.  Chambers now includes these in their annual rankings and list in the top band: Axiom, Pangea3, QuisLex and UnitedLex. UnitedLex touts itself as "driving business impact" by offering a complete solution of technology, project management and subject matter expertise in litigation, contracting, IP and cybersecurity.  "UnitedLex is a global leader in legal and business solutions. We are a company of over 2,000 employees – attorneys, engineers, financial analysts and consultants – operating throughout the United States and abroad."  It has partnered with seven law schools to host a legal residency program.  This sounds like stiff competition to law firms, at least for certain types of work.
In the meantime, other significant players in the field have been serving the needs of companies for years, gaining market share while in many instances doing so off the radar of law firms.  Consulting firms including those that provide investigations, compliance, forensics and data analysis, and data privacy and security services are hired by companies in areas that overlap legal services.  Examples of these include the Mintz Group, Navigant, and Marsal and Alvarez to name a few. While many law firms have healthy and collaborative relationships with many of these consultants and are hired by clients to work together on matters, these consulting firms are also aggressively pursuing work they say they can do without such active involvement of a law firm.
The Big 4 Offer Integrated Legal Advice in Multi-Disciplinary Teams
Because the ABA has to-date succeeded in barring multi-disciplinary practices and investment in law firms in the U.S., law firms have not had to compete as directly with the Big 4 in the U.S. market.  But as all global and international law firms know, the Big 4 pose substantial competition to law firms outside the U.S.  Having retrenched after Sarbanes-Oxley fall-out, they have now rebounded into some of the largest law firms in the world. Here  is a synopsis of their legal service capabilities and approach (as you read each one, replace the name with the name of a global law firm and see if the description fits):
"We offer a unique style of integrated legal advice, with access to specialists from across the whole of the PwC network. Whatever your commercial project, we'll have the right people with the right expertise to solve your business needs. We're the largest legal services network by geography. We have over 3,500 lawyers in 90 countries and immigration law services in 116 countries."
 "Multinational organizations need legal advisors who can assist with day-to-day activities as well as corporate life events across many jurisdictions. Deloitte Legal practices provide holistic guidance around strategic business decisions, offering cost-effective support for routine legal activities."
"Our EY Law network consists of 1,800 qualified professionals providing legal advice within 75 jurisdictions across the globe, and assisting our clients across a wide range of legal matters with a focus on multi-disciplinary and multi-jurisdictional services."
"In today's complex business environment, organizations need more than just good lawyers. They need business savvy legal advisors. At KPMG, we understand the value of high quality legal counsel in complicated times. That is why KPMG firms focus on bringing together multi-disciplinary teams with deep local and international experience to tackle clients' most challenging problems."  KPMG has over 1,200 lawyers operating in over 50 jurisdictions.
When you arrive at each of the Big 4 web sites, you will see that they offer most of the services that law firms do:
Antitrust and Competition
Building, Construction and Real Estate
Commercial and Corporate Law
Corporate Recovery
Cyber-security and Data Protection
Energy & Natural Resources
Energy Law
Family-Owned Businesses & Private Clients
Financial Services Regulation
Governance and Compliance
IP, Media and Technology
Labor and Employment Law
Litigation, Arbitration & ADR
M&A and Reorganizations
Privacy
Public Sector
Risk & Compliance
Tax Litigation
White Collar, Corporate Law
How are These Competitors Positioning Themselves and Why are They Winning Work? 
Some Key Advantages of the Big 4:
Take a multi-disciplinary approach and collaborate across service lines; combine law with industry expertise, data analytics and risk management
Bring diverse skills and experiences to the table; look at legal problems very differently than traditional lawyers do
Are global in size and scale
Have globally recognized brands, invest substantially in original research and thought-leadership, e.g., surveys, white papers.
Partners are required to rotate off client accounts after several years (regulatory mandate) which creates smooth client transitions and more institutional loyalty across several partners
Attract top lawyers, many from Magic Circle and top U.S.-based law firms
Offer a holistic solution
Are entrepreneurial, used to using and accessing technology and automation
Have separate business units of their firms dedicated to R&D and innovation so always thinking of different ways to do bring better solutions
Some Key Advantages of Non-Law Firm Service Providers:
Entrepreneurial and nimble – faster to respond to market trends and innovations
From the outset look to develop solutions that combine expertise, content, technology and process engineering
Deep pockets – usually backed by venture capitalists and other corporate investors
Invest substantially in marketing, growth, technology
Bring together multi-disciplinary teams of lawyers, project managers, process engineers, technologies
Run themselves as a business not a partnership
There is no doubt that clients have an ever-broadening choice of legal service providers and many are providing clients with a more pragmatic, holistic approach and greater efficiency to solving business problems. In addition to having a less business-oriented mindset, lawyers and law firms in the U.S. are restricted in what they can do to combat these competitors that offer multi-disciplinary approaches and solutions.  Despite what might be best for clients and for law firms, the ABA has, on several occasions since 1989, soundly rejected any efforts to loosen the regulations around lawyers and non-lawyers sharing profits and being in business together, or of outside investors helping to fund law firm growth and investments in technology and other solutions. In a future blog post, we will look at the ABA's resistance to the multi-disciplinary movement and also how some law firms are trying to gain traction by offering services through consulting subsidiaries.
---