Is Your C-Suite Siloed or Collaborative?
As law firms continue to strive to run themselves as businesses, more are hiring senior level business executives who do not have law degrees or who have joint JD/MBA degrees but who likely have more experience in business than practicing law. Most law firm CEOs in the US and UK, however, are lawyers, many of whom still practice law part of the time.
Reporting to the CEO or Chairman is a suite of officers – usually highly skilled executives, many of whom have prior experience in a Big 4 or management consulting firm. These professionals carry titles (and responsibilities) you would see in other businesses: Chief Operating Officer, Chief Financial Officer, Chief Marketing or Business Development Officer, Chief Information Officer and Chief Human Resources Officer.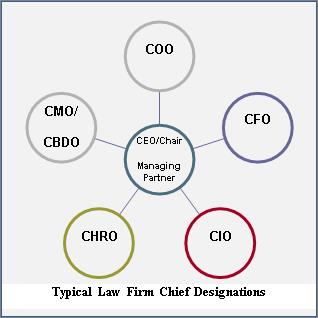 In the largest law firms, to each of these professionals report an array of directors, senior managers, managers and others involved in supporting the business side of their firms. In addition, some firms have a Chief Diversity Officer, Chief Strategy Officer, Chief Value Officer, Chief Talent Officer, and/or Chief Pricing Officer. There also are a number of people who now serve in a business operational role helping run practice groups or departments called Department Operating Officers. Foley & Lardner, KilpatrickTownsend and Orrick were among some of the first firms to employ these high level business directors (although last week we received news that Orrick, a firm that had taken the lead in executive management is letting go three of its administrative department chiefs.)
While these administrative and business functions have existed in law firms for quite a while, many firms have elevated both the roles and the expectations of those in these roles. As firms have gotten larger and have many offices around the country or the globe, those operating in the c-suite are expected to perform at the highest levels and to help bring measurable results to a firm's business.
Unfortunately, just elevating titles and roles and hiring highly qualified people are not enough to create a well-functioning c-suite. In fact, many in the c-suite often are too busy managing their own departments to spend time and attention strategizing or even communicating with their peers who run other departments in the firm. As a result, c-suite executives in firms often mimic the type of silo culture that partners, practice groups and offices often operate in.
Are there any benefits to silos?
Some silo-ing is necessary and healthy. Departments usually house experts that share certain skill sets and are tasked with accomplishing specific goals pertinent to their functional areas. It makes sense for them to be grouped together to maximize communication about best practices, project status and cross-training within the discipline. Chiefs, directors and senior managers must build teams of experts, engender loyalty and camaraderie, and also must be held accountable for their department's adherence to policies and budgets and achievement of organizational goals.
What are the negative effects of silos?
Operating exclusively in silos can have a number of adverse effects on an organization's business.  Over the years, studies by the American Management Association, Workforce.com and Accenture concluded that business units within organizations often are silo-ed and that silo structure and silo behavior impeded growth, collaboration and innovation.  Four IBM studies found that c-suite leaders "point to the importance of collaboration across business lines and organizational boundaries as key to unlocking hidden talent, identifying new opportunities and exploiting their companies' innovation potential." If there is no active effort on the part of firm leadership to nurture collaboration and cross-departmental communication, the effects of this may well:
Make chiefs feel lonely or isolated
Inhibit growth and profitability
Create inefficiencies and duplicated effort
Prevent cross-disciplinary communication and problem-solving
Engender competitive and territorial turf battles over scarce resources, control or credit
Result in misaligned strategic priorities
Impede innovation
On this last point, in a HBR article entitled The First Two Steps Toward Breaking Down Silos in Your Organization, author Vijay Govindarajan noted that "When we ask executives, What is the number one innovation killer at your company?, one of the first words we always hear, always, is "silos!" Recently, one executive even muttered, "fortresses."
There are so many areas within a firm that require the skills and insights found in another group, but often, a department will reinvent the wheel itself either because it didn't think to engage the other department(s) or it wanted to maintain control. Technology is an obvious area that crosses into all administrative and practice functions but there are many other areas such as pricing and project management overlap into business development, professional development, finance and technology where a multi-functional skills and insights are required.
As evidence of the profession's need to collaborate (and the vision of Catherine Alman MacDonagh of Legal Lean Sigma Institute and LSSO,) LEAD (Leaders Engaged in Association Dialogue,) a group of leaders from various associations that serve lawyers and their firms, held their second meeting in Boston on June 4 to explore ways in which the group can collaborate to help bring multi-disciplinary thought-leadership and best practices to their respective members. Association representatives who attended this year or last include: Association of Legal Administrators, Association of Law Librarians, American CLE Association, College of Law Practice Management, International Legal Technology Association, Legal Marketing Association, Legal Sales and Service Organization, and the National Association of Law Placement.  This kind of initiative should help support the efforts of firms to bring the various business disciplines together to share best practices and communications.
So what can law firms do to break down silos?
There are a number of steps firms can take to minimize the negative effects of silos while still keeping the necessary benefits and structure of silos in place. The goal would be to enhance collaboration across and among departments to bolster innovation, effectiveness and corporate growth.
Establish a culture of collaboration. As discussed in an earlier post, Collaboration: The Next Frontier. Are Law Firms Up to it?, law firms need to work toward more collaborative cultures.  In order to foster innovation and effectiveness, firms must build a leadership team that is expected to and rewarded for working together. The firm should devote resources to annual retreats for its c-suite during which the firm's strategic plan is discussed and specific action items are developed to reach twelve month goals. While much of the execution may take place within a department, discussing approaches together will inevitably lead to better solutions.
Communicate transparently and often. The CEO should establish a clear definition of roles and responsibilities for each of the firm's core functional areas and communicatethese to the chiefs with opportunity for feedback.  The CEO also should schedule regular calls and meetings (at least monthly) with the c-suite team as well as and an annual off-site retreat.  Strategic planning should be done with the active participation (and dare I say leadership?) of the c-suite team.  Each department should also invite in a member from another department to address a monthly meeting of the managers to share current priorities and best practices.
Take advantage of collaborative technologies and the intranet. Create internal chat rooms and virtual water coolers to encourage employee interaction. Develop departmental news highlights on the home page. Once or twice a year, devise a scavenger hunt to encourage everyone to explore projects being undertaken in various departments. Provide access to the entire firm.
Establish cross-departmental task forces to address challenges or to design innovative approaches, systems or processes. An example would be the firm's intranet which ideally includes representatives from a cross-section of lawyers and administrative personnel from technology, HR, marketing and business development, recruiting, and likely others. Consider rotating managers through other departments for a few weeks or a month to help them gain insight on what others are doing.
Establish cross-team mentoring. Encourage employees to seek out mentors in other departments, and if necessary, formalize this to ensure that it happens.
Measure and reward collaboration. Just as firms are now beginning to measure and reward (or penalize) partners for efforts to cross-sell, C-Suite executives should establish performance review criteria and compensation metrics to recognize collaborative behaviors or lack thereof. You could tie bonuses to successful results achieved through collaboration among individuals and among and between teams.
Celebrate successes. Communicate firmwide about results and outcomes of collaborative efforts across silos. This of course should also be done for practice, industry and client teams that collaborate.
At the end of the day, wouldn't it be nicer to have the c-suite and the firm look more like a Venn diagram than a series of silos?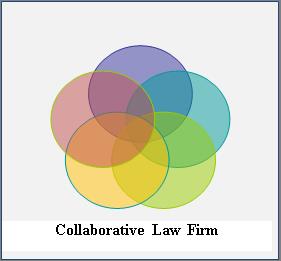 ---