Are Project Management and Process Improvement Just Fads?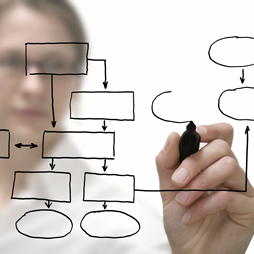 Like many things occurring in the profession right now, this is a trend that is here to stay. Clients want their legal work done faster, cheaper and smarter and they know that there are good practices in place in other professions and businesses that can be adapted to the practice of law.  Companies like GE and DuPont, pioneers in six sigma and lean engineering, imposed these disciplines onto their legal departments decades ago. Many clients have and are following suit.  According to Susan Raridon Lambreth, principal at the Legal Project Management Institute and Law Vision Group, a West LegalEdcenter program she is co-chairing next week on enhancing productivity and project management has already drawn over eighty in-house counsel registations.
Many law firms already have initiated programs in and approaches to PI and PM. Examples include Blake Cassells, Bryan Cave, Dechert, Duane Morris, Eversheds, Foley & Lardner, Goulston, Latham, McCarthy Tetrault, McDermott Will, Morgan Lewis, Seyfarth, Squire Sanders, Sutherland, Valorem and WilmerHale, among many others. Our post 5 Firms Take Bold Approaches profiled several firms about their substantial commitments to these disciplines.
Clients clearly are driving this train. During the year I served as Chief Strategy and Development Officer for a global law firm, we saw an increasing number of RFPs that included specific questions about project management including the technologies and systems we used and the number of dedicated and certified PM staff we had. This has become a critical criterion for many clients when selecting law firms, along with pricing and staffing. Many clients have set up separate billing task codes for project management activities.
First, let's define the two concepts.
What is process improvement?
Business process improvement is a systematic approach to help an organization optimize its underlying processes to achieve more efficient results. Process improvement is also a method to introduce process changes to improve the quality of a product or service, to better match customer needs. If process improvement is implemented successfully, it achieves many benefits: better service or product quality, client satisfaction, client loyalty (which as we discussed at length in In 2013, Will More Firms Finally Understand that Client Feedback = Better Revenue and Profitability? and Client Feedback: 10 Steps to Determine Where Your Firm Fits on the Satisfaction and Loyalty Curve leads to much higher profits,) increased productivity, increased efficiency and increased profit in part due to reduced WIP (work-in-progress not yet billed or collected,) faster turnaround and less wasted time.
Process improvement in law firms encompasses much more than legal matters, unlike legal project management which really applies only to the management of legal work (although Susan Raridon Lambreth reminds me that project management has been actively used in law firms for decades in the information technology departments and other administrative areas where certified project managers are often employed.)  Process improvement has been used to improve many functional areas and activities from RFP response and proposal practices, to billing systems, to lateral recruiting and other areas.  According to the Legal Lean Sigma Institute, process improvement entails the systematic practice of:
Analyzing a process to understand how it is currently carried out
Searching for issues, problems and opportunities in the process, and prioritizing them
Employing tools and techniques to solve priority problems or capture significant opportunities
Controlling the new process so it delivers the anticipated benefits
Lean Sigma, a blend of Lean and Six Sigma, is one of several process improvement methodologies. If used successfully, this methodology:
Specifies value in the eyes of the client
Reduces waste and variation
Makes value flow at the pull of the client
Aligns and empowers employees
Continuously improves in the pursuit of perfection
One of the key areas of focus for law firms must be on the area of reducing waste. This will be important both to lower costs to clients, e.g., being more efficient, using technology when a better alternative, e.g., predictive coding for eDiscovery or reducing the number of depositions taken, using lower cost staffing solutions, and to increase profits to the firms, e.g., streamlining, using processes to monitor progress and expedite completion to lower WIP and receivable timelines. According to Mark Greenhouse of Levantar, "Organisations should understand every activity in the processes they use and whether these add value to the customer, aiming to remove those activities & processes that don't add value." He cites seven wastes that often impede optimal performance:
The Seven Wastes
Some Examples

 

Over (extra) processing
Work done by partners or lawyers that could be delegated down, too many lawyers working on projects, too many checklists, over-working a file or project beyond what client needs, stop and start due to work interruptions, too many meetings/calls to define outputs and process.
Waiting
For replies to emails, clients and others to send information, the mail to arrive, work to be checked by someone else, bills to be drafted, reviewed and sent.  Waiting for all information to be in before carrying out reviews.
Over-production
Completing projects before they are required whilst others doing the same work for other clients are working long hours and facing short deadlines.
Defective activities
Incorrect or missing information from clients, errors on bills, filing errors, incorrect recording or allocation of time.
Inventory
High levels of WIP (work-in-progress) not completed and/or not billed, cases opened with no completion deadline or now inactive, large projects in progress, extra copies of everything in paper just in case.
Motion
Searching for information in document management system, email inbox or in piles of files, having to physically move around the office for photocopying, paperwork, moving details  from one document or software to another.
Transport
Unnecessary handling of files, traveling to/from client meetings, distribution of correspondence by higher cost/slower means..
DMAIC – The Five Phases of Lean Six Sigma
DMAIC is the acronym that describes the process methodology used in Six Sigma and Lean. Catherine Alman MacDonagh, JD, co-founder of the Legal Lean Sigma Institute, observes that many law firms that engage in process improvement projects often want to jump from Define to Control and skip the steps in between. But this prevents firms from coming up with the best and right solution.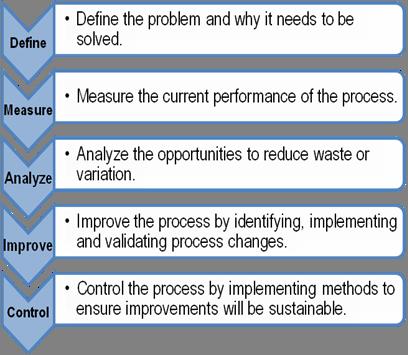 What is project management?
According to the Project Management Institute, "Project Management is a systematic process to initiate, plan, execute, control and close a project to meet defined objectives." It is the application of knowledge, skills and techniques to execute projects effectively and efficiently. In the law firm context, the components typically involved in project management include:
1. Scoping matters, case assessment, establishing goals and outcomes
2. Process mapping, assigning tasks and timelines
3. Effective management of and communications with and across the team
4. Establishing task codes
5. Planning and managing a detailed budget; assessing and assigning risk
6. Monitoring scope, quality, budget, outcomes; negotiating change orders
An important component of project management is process decomposition, a planning technique to subdivide project scope and deliverables into smaller components. This makes projects easier to budget for and monitor. Richard Susskind in his most recent book Tomorrow's Lawyers touches upon how legal work can be decomposed and sourced in new and different ways. For example, just looking at litigation and transactions, he proposes:
Litigation,   decomposed

 

Transactions,   decomposed

Document review
Legal research
Project management
Litigation support
(Electronic) disclosure
Strategy
Tactics
Negotiation
Advocacy

Due diligence
Legal research
Transaction management
Template selection
Negotiation
Bespoke drafting
Document management
Legal advice
Risk assessment
"I passionately believe that project management will be central to the successful conduct of large scale deals and disputes in the future. But if lawyers are not sufficiently trained in this discipline, competitors from other professions and sectors will undertake this work in their stead," according to Richard Susskind.
Decomposition is also known as disaggregation or unbundling. By looking at each matter or project broken into discrete parts or stages, firms and clients can better determine how to better source each task and how to price it. Richard Burcher of Validatum discusses this and many other aspects of pricing in his blog.
In order to do project management effectively, firms must first ensure that the processes they are using to get work done well, efficiently, on time, on budget, using the right people and getting desired results are functioning optimally. For this reason, ideally firms will engage in process improvement first. In practice, there are overlap aspects to both disciplines and for many firms, project management is the process clients are now asking for or demanding, and therefore will get more immediate attention.
PI and PM are not fads — they are here to stay. The sooner firms tackle these two management disciplines the sooner they will:
Differentiate themselves and win new work from discerning legal departments who get it
Be able to actually know what it costs to produce the legal work it delivers
Increase productivity and profitability
Budget and price in a way that brings desired transparency, predictability and efficiency to clients and still be profitable
Catch up to other professional service providers who have been way ahead of law firms on this front.
There are a number of respected consultants out there who can help you train and certify your lawyers or work with your firms on program development and execution.
With process improvement/lean sigma:
With project management:
---